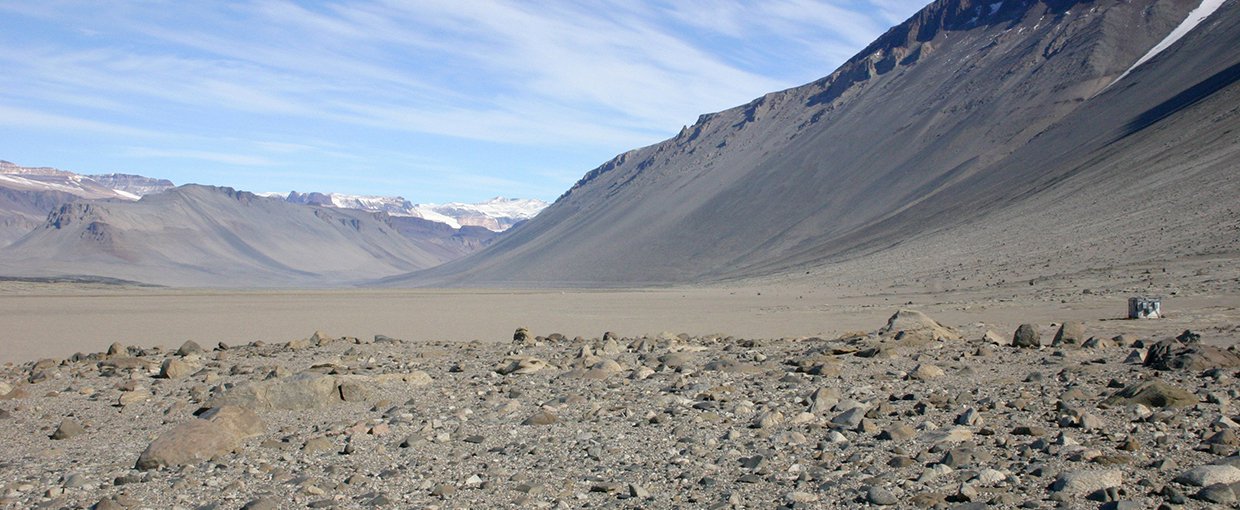 Mike Toillion/NASA Astrobiology
Feature Story
Life in the Extreme: Polar Deserts
Ice, desiccation, and limited nutrients
Hot enough for you here in the Northern Hemisphere? Let's cool off with a trip to Earth's polar deserts, places where astrobiologists study life's adaptation to some of the driest and coldest conditions on our planet. Many of Earth's coldest deserts are found in the Arctic or Antarctic regions of the planet. This includes places like the Dry Valleys of Antarctica or sites on islands in the extreme north, like Greenland and Svalbard. However, there are also extremely cold deserts can also be found away from the poles at elevation, such as high up in the Andes Mountains in South America.
Polar deserts are characterized by extremely low temperatures and arid conditions. They receive very little precipitation, the main forms of which are snow and fog. Most water in these extremely cold landscapes is frozen solid. With such little precipitation, it's not easy for anything to live in a polar desert… but there is life! In some of the coldest desert there are lichens and plants that have adapted to the extreme conditions. And of course, diverse populations of microorganisms also call these places home.
Deserts and Astrobiology
Astrobiologists are very interested in studying life in polar deserts here on Earth. One reason is that some of the conditions are similar to what we see on Mars. The study of life in polar deserts is almost as old as NASA itself. Many researchers involved in NASA's Viking missions to Mars in the 1970s worked in the Dry Valleys of Antarctica to both test instruments and consider the potential for life in freezing and extremely dry conditions. Since then, cold deserts in places like Alaska, Greenland, Svalbard, and Iceland have become important research sites for astrobiologists. Science instruments for missions like the Mars Exploration Rovers, the Curiosity Mars rover, and the Perseverance Mars rover were developed and tested in cold desert locations.
In terms of studying life, polar deserts are particularly important for examining psychrophiles. These organisms don't just tolerate the cold; true psychrophiles require temperatures to be well below freezing. To live in such icy temperatures, many have special adaptations and mechanisms – such as producing proteins that act as anti-freezing agents. Psychrophiles can be found in many environments, including the deep sea and snow packs, but many call polar deserts home.
Oftentimes, microorganisms are found lying dormant for incredibly long periods of time. These organisms aren't always actively 'eating' or reproducing. In a sense, they're hibernating as they wait for environmental conditions to get better.
Permanently frozen areas on Earth can preserve organisms for tens of thousands of years. Antarctic mosses have been regrown from samples that were a thousand years old and covered by ice. Nematodes in Siberia were revived from samples tens of thousands of years old. Recently, microscopic multicellular animals known as bdelloid rotifers were reported to have survived in Siberian permafrost dated to around 24,000 years old (Shmakova et al. 2021).
In Greenland, astrobiologists even identified an ultra-small microbe living inside a glacier. The bacterium is called Chryseobacterium greenlandensis, and has survived for up to 120,000 years within the ice.
Astrobiologists also find microorganisms living under or even inside rocks in cold deserts all over the world. The rocks can let some sunlight through as well as create spaces of relatively higher moisture. The microbes miraculously access whatever scant moisture is available and are able to photosynthesize to create their own food. Organisms that live inside the pores of rocks are known as endoliths. If Mars were home to past (or present) life, could Martian organisms use strategies like this to survive on its cold, dry surface?
Life in the Extreme:
Life in the Extreme: Radiation
Life in the Extreme: Surviving Beneath a Glacier, Part I
Life in the Extreme: Surviving Beneath a Glacier, Part II
Life in the Extreme: Terrestrial Hot Springs
Life in the Extreme: Polar Deserts
Life in the Extreme: Hydrothermal Vents
Related:
NASA Participates in the Arctic Mars Analogue Svalbard Expedition (AMASE) 2009
On the Ground in Greenland
New Instrument May Aid Search for Extraterrestrial Life
Resources:
Life in the Extremes: Astrobiology Extremophile Trading Cards
Astrobiology Graphic History Issue #5: Astrobiology and the Earth
References:
Bishop et al. (2013) Coordinated analyses of Antarctic sediments as Mars analog materials using reflectance spectroscopy and current flight-like instruments for CheMin, SAM and MOMA. Icarus 224(2)
Loveland-Curtze et al. (2009) Herminiimonas glaciei sp. nov., a novel ultramicrobacterium from 3042 m deep Greenland glacial ice. International Journal of Systematic and Evolutionary Microbiology, 59(6).
Loveland-Curtze et al. (2010) Novel ultramicrobacterial isolates from a deep Greenland ice core represent a proposed new species, Chryseobacterium greenlandense sp. nov.. Extremophiles, 14.
Malaska et al. (2020) Subsurface In Situ Detection of Microbes and Diverse Organic Matter Hotspots in the Greenland Ice Sheet. Astrobiology, 20(10).
Murray et al. (2012) Microbial life at −13 °C in the brine of an ice-sealed Antarctic lakePNAS, 109 (50).
Schmakova et al (2021) A living bdelloid rotifer from 24,000-year-old Arctic permafrost. Current Biology, 31(11).
Starke et al. (2013) Microbial community composition and endolith colonization at an Arctic thermal spring are driven by calcite precipitation. Environmental Biology Reports, 5(5).
Stern et al. (2013) Isotopic and geochemical investigation of two distinct Mars analog environments using evolved gas techniques in Svalbard, Norway. Icarus, 224(2).