
Research Highlight
Restoring Data from the Apollo Missions
Recently restored data from the Apollo 15 and 17 missions reveals new information about heat loss in the lunar subsurface.
A team of researchers has recovered and restored previously unarchived data from the Heat Flow Experiment (HFE) conducted on the Apollo 15 and Apollo 17 missions. The Apollo HFE was a component of the Apollo Lunar Surface Experiment Package (ALSEP), and was used to study heat loss from the lunar interior by measuring temperature and thermal properties at the subsurface and surface of the Moon. HFE was used on Apollo 15, 16, and 17 and consisted of two probes. Astronauts drilled holes using the Apollo lunar surface drill (ALSD) and lowered the probes down to collect absolute temperature data, differential temperature data, low- and high-thermal conductivity data, and thermocouple temperature data.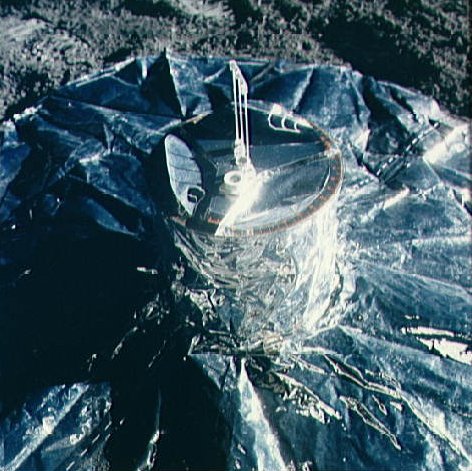 In examining the restored data, scientists noted that temperature in the lunar regolith gradually increased over the course of measurements at both the Apollo 15 and Apollo 17 sites through December of 1974. Warming continued until the end of observations in 1977. This warming was more pronounced at shallow depths, meaning the thermal gradient decreased. To understand the causes behind the recorded warming, the team used images from the Lunar Reconnaissance Orbiter Camera to examine the landing sites. Regolith along the paths that the astronauts took on the Moon's surface had turned darker, thereby lowering the albedo. The researchers propose that astronaut activities caused a slight increase in the average solar heat intake of regolith at the landing sites.
Studying the Moon provides astrobiologists with important data about the formation and evolution of rocky bodies in solar systems. This research is also valuable in understanding the Moon's role in the formation and evolution of the Earth, which is thus far the only example we have of a habitable world.
The study, "Examination of the Long‐term Subsurface Warming Observed at the Apollo 15 and 17 Sites Utilizing the Newly Restored Heat Flow Experiment Data from 1975 to 1977," was published in the journal JGR Planets. The work was supported through the Planetary Data Archiving, Restoration, and Tools (PDART) program. The NASA Astrobiology Program provides resources for this and other Research and Analysis programs within the NASA Science Mission Directorate (SMD) that solicit proposals relevant to astrobiology research.