
NASA/JPL/Space Science Institute
Research Highlight
Details of Enceladus' Subsurface Ocean
Scientists supported by NASA have created a new model that predicts the conditions present in the subsurface ocean of Saturn's moon Enceladus. The results are helping astrobiologists understand whether or not the ocean could support life as we know it.
Material thought to originate from Enceladus' ocean erupts in plumes from the moon's south pole. Between 2008 and 2013, NASA's Cassini spacecraft made in situ measurements of the plumes using its Ion and Neutral Mass Spectrometer (INMS). Cassini returned data on what the plumes are made of and provided estimates of the ocean's salinity, pH, and gas content. However, numerous processes alter the material in the plumes as they make their way from the ocean to the surface and then erupt into space. The newly developed model includes the effects of these processes in order to provide a more accurate estimate of the current conditions of Enceladus' ocean.
The results of the new model indicate that the ocean is moderately alkaline with a pH between 7.95 and 9.05. This prediction is closer to Earth-like conditions for pH than previous estimates. In addition, the authors believe that concentrations of carbon dioxide and hydrogen in the ocean would be sufficient to support hydrogenotrophic methanogens (microorganisms that consume carbon dioxide and hydrogen in order to live, and release methane in the process).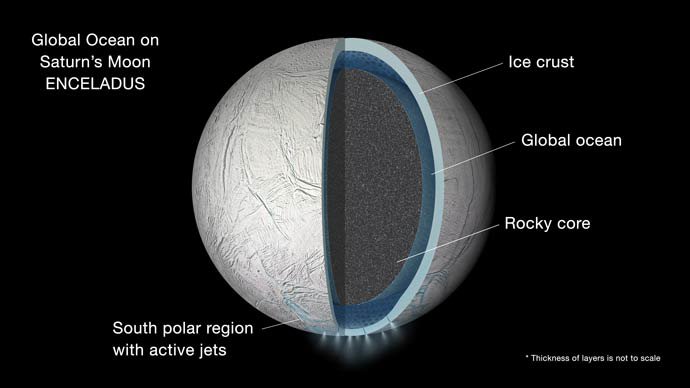 Enceladus' ocean could also be gas-rich with high concentrations of ammonium ions. The levels of bulk ammonia and inorganic carbon predicted by the model are consistent with the levels that would be expected from delivery by comets. The researchers posit that Enceladus was made from comet-like building blocks, and that the gas-rich ocean is a remnant of the high concentration of volatiles present in these comet-like materials.
The study, "Chemical Fractionation Modeling of Plumes Indicates a Gas-rich, Moderately Alkaline Enceladus Ocean," was published in The Planetary Science Journal.