
Feature Story
Interactive Web Site Delves into the Science of Origins
New educational site produced by the University of Wisconsin
"The quest to understand our beginnings — of our universe, of life on Earth, of our species — inspires people all over the world."
A new University of Wisconsin (UW) Communications-produced web site, Origins, provides a view on origins science from the prospectives of anthropology, geology, and astronomy. The educational product focuses on research performed by UW-Madison scientists in South Africa, including projects from the Wisconsin Astrobiology Research Consortium (WARC).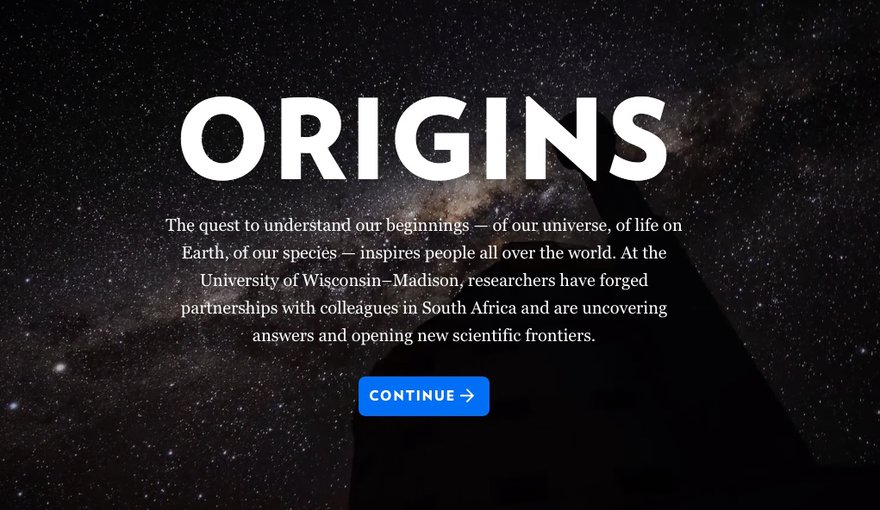 The interactive web site approaches the topic of origins broadly, and is divided into areas that cover the Universe, Life on Earth, and Humankind. The web site is the first phase in a wider educational initiative, with plans for a documentary film to follow. View a trailer for the initiative from UW-Madison below:
Visit the Origins web site at: https://origins.wisc.edu/
Additional educational products can be found on the Astrobiology Program Education page at: https://astrobiology.nasa.gov/education/
The Wisconsin Astrobiology Research Consortium is funded by NASA, UW-Madison, and other sources. A large part of the work is undertaken through the Department of Geoscience at UW-Madison.