
Courtesy of Steele, Eigenbrode, and Lyons
Feature Story
In Memoriam: Marilyn Fogel
Marilyn Fogel, pioneering astrobiologist, biogeochemist, and "isotope queen", died on May 11, 2022
The astrobiology community has lost one of its best. Marilyn Fogel, a highly influential researcher and mentor, succumbed to amyotrophic lateral sclerosis, or ALS, on May 11, 2022, leaving behind an unmatched legacy of research, community service, and mentoring. The vast impact and breadth of Marilyn's research are difficult to quantify, spanning across Earth history, climate, nutrient cycling, terrestrial ecosystems, astrobiology, marine sciences, microbial ecology, environmental sciences, and paleoecology—among many other themes. Her interest in life detection on other planetary bodies began in the late 1990s, building on decades of path-defining research in isotope geochemistry.
Marilyn's studies almost always involved creative, often first-of-their-kind applications of stable isotopes of biologically relevant elements to track ecological and geochemical processes on Earth and elsewhere in the solar system. She worked with equal finesse in both modern environments and in the geological record, and she was a leading light in the emerging fields of astrobiology and geobiology – frequently with isotope ecology as the central theme. In the 1970s she was already using isotopic methods in geology in unprecedented ways, joining a small group of scientists that started the field of biogeoscience, producing seminal papers along the way. Among her many accomplishments, she took a foundational role in the investigation of hydrogen isotopes in biological systems. She is also well known for her influential research exploring the patterns and controls on variations in nitrogen and carbon compositions in amino acids, starting early in her career and extending to recent projects with consistently demanding ground-breaking analytical methods, including early use of MALDI-TOF mass spectrometry.
Marilyn was an exemplary field scientist. But she was always right at home in the lab, wrench in hand and feet sticking out from under a mass spectrometer repairing, while measuring or helping others measure countless thousands of samples along the way. As an astrobiologist, she was deeply innovative in the use of stable isotopes to understand the pools and processes of our living planet, and she extended those methods to carbonaceous and Martian meteorites – always with an eye on the pathways by which life may share an elusive signal of its current and past presence. Her impacts on several fields are reflected in her many honors, including her election to the U.S. National Academy of Sciences and receipt of the Alfred Treibs and V.M. Goldschmidt medals from the Geochemical Society, along with AAAS, AGU, and Geochemical Society fellowship.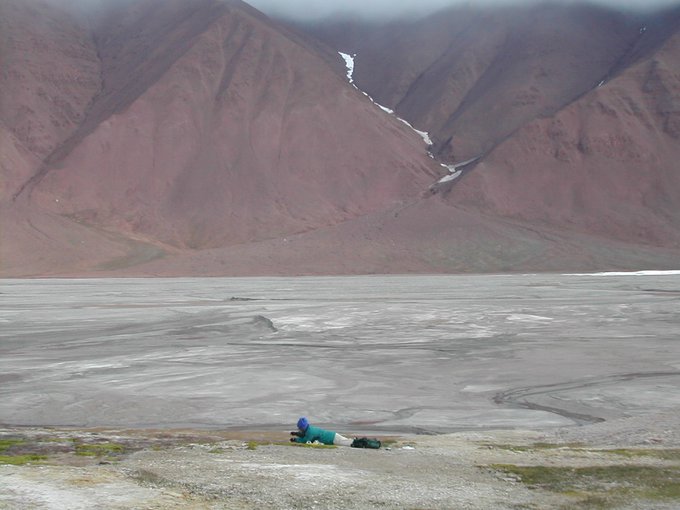 Marilyn was a mentor without equal. Whether to young or old, she always had advice, was always there to listen and support, and invariably brought out the best in any person or situation. Her generosity included unparalleled support of early career women. At a recent meeting, one of her former postdocs commented that over a third of isotope geochemistry laboratories in the world had some connection to Marilyn. So many world-class scholars are connected to Marilyn – first under her wing, but soon after flying high on their own. Each tells their version of a common thread – praise for her intellect, bigheartedness, passion, compassion, and adventurous fun spirit.
Having spent over three decades at the Geophysical Laboratory of the Carnegie Institution of Science, Marilyn moved to UC Merced in 2013 to undertake a new challenge, that of being professor, and then relocated to UC Riverside in 2016 where she was appointed Distinguished Professor, the Wilbur W. Mayhew Chair of Geo-ecology, and Director of the EDGE (Environmental Dynamics and Geo-Ecology) Institute. As Marilyn's medical challenges grew so did her resolve to remain productive, positive, and impactful for as long as she could, which remarkably continued right up to her final weeks. And rather than taking the easier path that she was certainly entitled to after so many years of leadership, Marilyn now disabled with limited mobility in a wheelchair, devoted much of her remaining energy to one of the most threatening and vexing environmental problems in the U.S. – the shrinking Salton Sea. Her task force assembled at UCR is arguably the most coordinated group yet to tackle the many related problems, and its continuing efforts will go down as one of the many vital legacies of her passions, patience, and persistence. Even in her final weeks, her grace, humility, generosity, and positivity astounded. Then, as always, her wit, powerful intellect, and honesty prevailed.
Whether it was astrobiology, ecosystem dynamics, anthropogenic extinctions, isotopic fractionation in photosynthesis or nitrogen reduction, or the many other topics she tackled, Marilyn applied her prodigious talents always with rigor, novelty, and creativity. After her diagnosis with ALS, she began sharing her experience by blogging, and she has left us three books and a Geochemical Perspectives issue as lasting archives. In these pages she charts her many successes and struggles as a leading female scientist. These should become basic reading for anyone in academia. The challenges of overcoming the "old boy network" in particular are revealed and give us crucial insights into how and why underrepresented people should be nurtured and supported.
ALS is an insidious disease that took Marilyn from us, but not without an unimaginably brave battle that left friends, family, and colleagues in awe of her strength and lasting joie de vivre. Marilyn is survived by her husband Chris and two children, Evan and Dana. Astrobiology has lost a true pioneer, role model, advocate, and genuinely beautiful soul, but her footprints are everywhere, and her spirit lives on in all that she touched.
RIP, Marilyn, may you Ratio Isotopes in Peace.
Andrew Steele
Jennifer Eigenbrode
Tim Lyons
What an amazing woman! I feel so profoundly lucky to have met Marilyn in my undergraduate days in the early 90s, when I was just exploring how to become a scientist, and long before knowing anything about the idea of Astrobiology. I will always thank Marilynn for her infectious laughter, her brave spirit, her curious gaze, her ability to connect and her unfailing willingness to help me at every stage in my early career.
Marilyn was an extraordinary mentor and friend. I met her in 1985 in the Geophysical Lab at the Carnegie Institution in DC when I was working on my PhD. I ran my samples from the Mexican seagrassbed benthic community in the mass spec, the same one that had been used by the greatest N isotope experts, Steve Macko read one of the lines. Tom Hoering was working on the Sulphur isotope method that year in one end of that lab. The Summer and Fall of 1985 that I spent in her lab I had the best stable isotope experience with the best training and mentorship from her and her colleagues. She helped my thesis move forward to get the most interesting results. I learnt of the many stories of using stable isotopes to define parasite trophic positions and others that made me passionate of mass spectrometry. I feel fortunate to have met Marilyn, to have learned from her. She introduced me that year and along the years to come to her students (Luis, Carmen, and many others), many with whom I have shared scientific interests and collaborated. Marilyn was for me a raw model in the academic world with whom I shared the interest in Astrobiology. That same year I also met Rafael Navarro in College Park with whom I shared the interest of Astrobiology too that led us to create the Mexican Astrobiology Society. What a small world, fully intertwined, and all started in1985. I am so sad to hear of her departure, I will remember her with all the great memories of the Geophysical Lab.
I was Marilyn's postdoctoral fellow at the Carnegie Institution of Washington from January 2005 to March 2007. At first, I was a quiet Canadian wound up so tight that I was an enigma to Marilyn. However, within weeks of my arrival, Marilyn hosted one of her legendary house parties where, after a few drinks, I became my regular chatty self, and Marilyn and I bonded. Marilyn trusted me with her lab, house, vehicles, and even her dog (Nicky) and her hermit crab. Once she let me set off fireworks on her front lawn for Canada Day. Marilyn had a serious side as well. She had a way of peering at you over her glasses that made you feel like she could see through your soul. Marilyn's mentorship style was to lead by example. I learned work life/balance through Marilyn's examples of incorporating family and friends into her science. She taught me to play hard as well as work hard. She taught me that it's good to be friends with your colleagues and mentorees, because these are the people you will spend most of your time with. Beyond science mentorship (which cannot be overstated), Marilyn also taught me how to cook a turkey, how to be a good host, how to be a good wife, and how to be a good colleague. I can't think of another time in my life where I learnt and grew so much as a scientist and a person in only 2 years. When I left Marilyn's lab she gifted me with a necklace and a complete toolkit. Upon reflection, I see that these gifts are a wonderful mélange of femininity and independence. I would not be the person that I am today without Marilyn Fogel. Thank you Marilyn.
The Swarth/Fogels are good family friends, and because Chris Swarth and my mom were in related fields I learned a lot about his work over the years, but knew nothing of the amazing work that Marilyn did. Thank you for sharing her professional story! A true role model for us all.
I hope to be like you one day. Thank you.
May the stars shine brighter, life be sweeter, the Universe be kinder because of your life... well lived!!!!
I have fond memories of working with Marilyn during what are now 'early days of Astrobiology' as a collaborator on the Carnegie's first and second CAN awards. Always a touch of skepticism, genuinely interested and helpful, wonderful sense of humor, and profoundly good person, citizen, and scientist. Great tribute article to Marilyn, as well, captures her spirit wonderfully.
I only briefly met Marilyn but was impressed by her energy and dynamism. She will be sorely missed. My condolences to her family, friends and colleagues.