
Research Highlight
Environments that Allowed Ediacara Biota to Flourish
Sedimentary rocks from 575-541 million years ago (Mya) contain the first macroscopic, multicellular body fossils yet known on Earth. This includes a variety of fossil types that are unique to this period in Earth's history, and correspond to a time of tectonic, geochemical, and evolutionary changes on Earth. The fossils come from a group of marine organisms known as the 'Ediacara biota', and mark an important step in the evolution of life on Earth.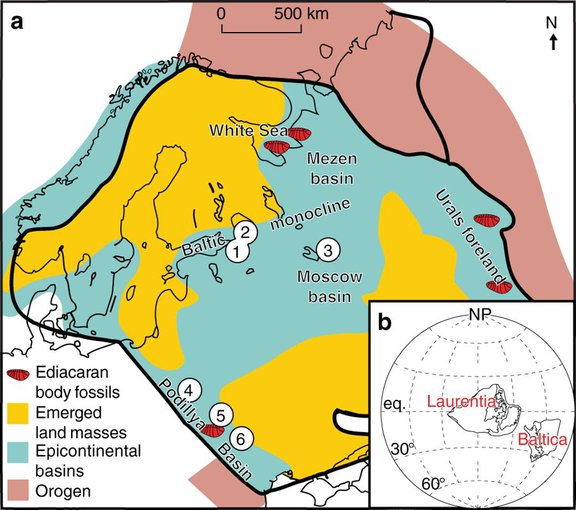 Astrobiologists have long been interested in the conditions that led to the emergence of the Ediacara biota. Geochemical studies have shown that the majority of Ediacara biota survived in predominantly oxic conditions, and scientists have theorized that an increase in ocean oxygen levels was a major driver in their evolution. However, other factors, such as the availability of nutrients like nitrogen or phosphorus, must also be considered. Recently, a team of scientists reported lipid biomarker and nitrogen and carbon isotopic data obtained from seven drill cores across what is now northwestern Eurasia. The study reveals new details about the environment and food sources that sustained the Ediacara biota, providing a more complete picture of this pivotal moment in life's history on Earth.
The study, "Ediacara biota flourished in oligotrophic and bacterially dominated marine environments across Baltica," was published in the journal Nature Communications. The work was supported by NASA Astrobiology through the Exobiology Program.