
Feature Story
Dedication of the Carl Sagan Center
"The nature of life on Earth and the search for life elsewhere are two sides of the same question - the search for who we are."
On Friday, November 9, 2001, on what would have been Carl Sagan's 67th birthday, the NASA Ames Research Center dedicated the site for the Carl Sagan Center for the Study of Life in the Cosmos. The cornerstone for the new Center was unveiled during the dedication ceremony.
"Carl was an incredible visionary, and now his legacy can be preserved and advanced by a 2lst century research and education laboratory committed to enhancing our understanding of life in the universe and furthering the cause of space exploration for all time," said NASA Administrator Daniel Goldin.
The Sagan Center will be located in the planned NASA Research Park at Moffett Field, California, adjacent to the NASA Ames Research Center. As currently planned, the project could include approximately 700,000 square feet of new construction on more than 21 acres. The Sagan Center will consist of three 30,000-square-foot laboratory modules, with the potential to add a fourth module at a later date. The Center will also house a 30,000-square-foot public gallery exhibition area and a 500-seat auditorium.
The Sagan Center will be a huge step forward toward NASA's goal of developing a world-class, shared-use research and development campus in association with academia, industry and non-profits. The Center is specifically designed to increase the interplay of scientists in fields for which there is no obvious common ground. The modular design of the planned laboratories will provide the necessary flexibility for future change and evolution.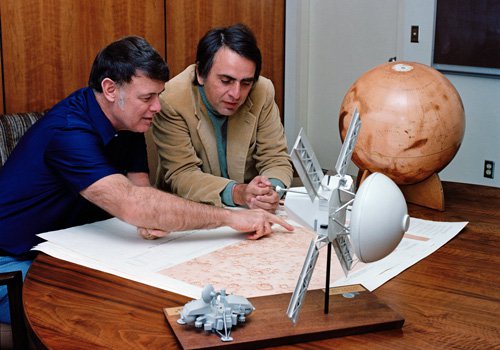 Research at the facility will focus on the many questions facing astrobiologists about life on Earth and in the Universe. A genomics and microbiology laboratory will be used to understand the fundamental processes of living systems in a variety of different environments. A biosensors facility will work on developing devices to study the fingerprints of life, both here on Earth and on other planets. A nanotechnology laboratory will be used to develop tiny devices that mimic or replicate the processes in living systems.
"The Carl Sagan Center will provide an exceptional opportunity for leading-edge, multi-disciplinary research in support of NASA's mission to understand 'are we alone in the universe?,'" said NASA Ames Deputy Director for Research Scott Hubbard. "Scientists will conduct both basic and applied work that will further our understanding of life's origins, evolution and future."
"No honor would have meant more to Carl than this," said Ann Druyan, his wife and collaborator for 20 years. "He loved NASA, cherished his relationship with Ames, and dreamed that we, as a civilization, would turn our genius to the deep questions of life in the cosmos."