2009 Annual Science Report
University of Hawaii, Manoa Reporting |
JUL 2008 – AUG 2009
Main Belt Comet P/2008 R1 Garradd Characterization
Project Summary
We identified P/2008 R1 as a main-belt comet (previously mis-classified as an ordinary Jupiter-family comet) and mounted an observational program to assess its physical properties, and a dynamical campaign to understand its orbit.
Project Progress
Main-belt comets are objects with the dynamical characteristics of an asteroid and the physical characteristics of a comet (see Figure 1). P/2008 R1 is a newly-discovered comet and is identified as the 4th MBC. We obtained limits to its size (500 m) and mass loss rate (< 1 kg/s). Unlike the previously reported MBCs, P/2008R1 is dynamically unstable with a lifetime of ~ 20-30Myr (see Figure 2). P/2008R1, as a new type of MBC, must have been recently emplaced from a longer-lived source elsewhere, perhaps in the outer belt. The work is already published as
D. Jewitt, B. Yang and N. Haghighipour (2009). Main-Belt Comet P/2008 R1 (Garradd). Astronomical Journal, 137, 4313-4321.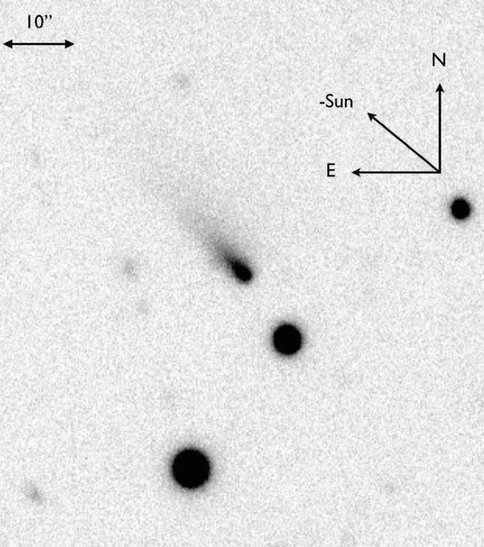 Publications
Jewitt, D., Yang, B., & Haghighipour, N. (2009). MAIN-BELT COMET P/2008 R1 (GARRADD). The Astronomical Journal, 137(5), 4313–4321. doi:10.1088/0004-6256/137/5/4313
PROJECT INVESTIGATORS:

PROJECT MEMBERS:

Nader Haghighipour


Unspecified Role



David Jewitt


Unspecified Role



Bin Yang


Unspecified Role





RELATED OBJECTIVES:

Objective 1.1


Formation and evolution of habitable planets.



Objective 2.2


Outer Solar System exploration



Objective 3.1


Sources of prebiotic materials and catalysts