
Feature Story
Arecibo Observatory Space Academy Addresses the Need for Diversity in STEM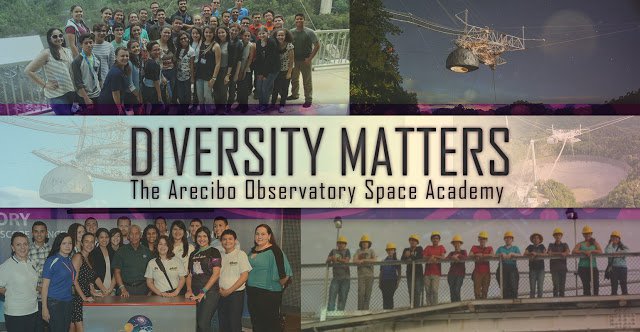 The Arecibo Observatory Space Academy (AOSA), started in 2013, is a pre-college semester-long program aimed at deepening the scientific interest and strengthening the skills of Puerto Rican students, helping to lead them towards futures in STEM fields.
In a recent post in Women in Astronomy, Edgard Rivera-Valentin, Project Manager for the Space Academy, and Luisa Zambrano-Marin, Program Coordinator for the Space Academy, emphasized the importance of reaching out to Latino and Hispanic students, a population they point out is the largest underrepresented group with a measured interest in STEM. To push for greater diversity and promote the retention of Latino and Hispanic students to graduation and further on to STEM professions, AOSA offers a combination of peer-mentorship, research projects, English as a Second Language immersion, and science communication training that has included past partnership with FameLab.
During its five year run, all AOSA participants have matriculated to colleges seeking STEM degrees, with the first class of AOSA alumni graduating with bachelor's degrees this year.
More information about AOSA is available at: http://spaceacademyarecibo.wixsite.com/aosa.